1844 House is proud to announce the addition of Barry Sears as our new General Manager/Sommelier. After almost eight years of serving the community fine food and spirits with superior service; we are excited to continue to raise our standard of excellence.
Mr. Sears is a North Country native from Carthage, NY, spending the last fifteen years at the Mirror Lake Inn Resort & Spa in Lake Placid, NY. He brings with him the expertise of overseeing an AAA rated 4 diamond restaurant. As a sommelier, he has extensive knowledge of fine wines and spirits and will continue to expand the offerings of our Wine Spectator Award of Excellence winning wine list. Together with Jenny and I, who will remain active chef/proprietors; he will oversee and continue to develop the high standards and attention to detail that have become the signature style of 1844 House.
To celebrate his arrival, we are hosting a special "Sommelier Dinner" on Thursday April 24th to introduce Barry to the North Country community. Details are on the "Special Events" tab.
We are also excited to announce a summer "Gourmands' Supper Club Series", with dates in June, July, and August. These dinners will showcase fresh seasonal menus complimented with fine wines and cocktails. Details and menus will be on the website soon!
We look forward to seeing you soon. Cheers!
Brian & Jenny Walker 1844 House
1844 House - An American Bistro
Our "American Bistro"showcases the best foods and flavors that our community, state, and country have to offer.
Each product we use has been carefully sourced and selected to ensure superior quality flavor and wholesomeness. We cook with a "simple elegant style" that allows the naturally subtle or bold flavors of the food take center stage and our artistic presentations to add elegance to each dish. Our "value perception" is based on using superior quality natural and healthy ingredients served in nutritionally balanced portions.
We invite you to be our guests!
Follow us on Google+
---
Hours of Operation
Tuesday - Saturday 4:30 p.m. - 9:00 p.m.
Closed Sunday and Monday
Limited seating;
reservations recommended.
We accept Visa, Mastercard, Discover, and American Express cards.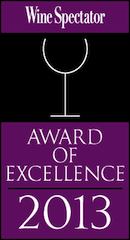 Give the gift of good taste!
1844 House gift cards are available in any amount and never expire.